Let us take you on a journey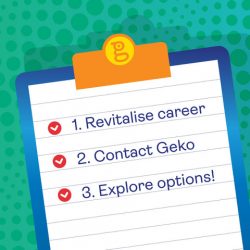 Geko
14. Apr 2022
Fullt starf
Let us connect you to the right people, ​​and support you every step of the way! 
We work with over 60 companies in the tech and innovation space in Iceland… and we are excited that our partnership portfolio is always growing.
Did you know there has been a 226% increase in job postings on Tvinna in Q1 2022 compared to the same period in 2020? You can find out more here where you can also read about our observations and industry insights.
If you don't see an opportunity for you, submit your details here and talk to a Geko Specialist. 
We know the perfect job is not always out there at the exact moment you are ready to make a move…
That's why we help people understand their own unique blends of talents and interests by identifying core skills to ensure the right people are placed in the right teams at the right time in their careers.
By building strong partnerships with companies in Iceland and becoming a true partner to our clients, we fully understand their talent needs and match great talent to teams and projects.
Geko is an Icelandic company founded in February 2020, and we have a core focus on building diverse and inclusive workplaces and also support our partners to create unique and rewarding end-to-end employee experiences to ensure people are empowered and happy in their work. 
Our consultants have years of both International and local experience combined, and we pride ourselves on giving a hands-on confidential candidate experience to secure your next career move. 
If you are keen to know about opportunities that are not always advertised, or see something that interests you but you don't want to make a formal application yet, you can send your profile by applying below and we will be in touch to discuss opportunities that are available either now or in the future.
Software Developers 
Product Managers 
Project Managers  
Tech Leads
CTO/ Leadership Positions
Security Specialists
Operations Specialists
DevOps Engineers
Infrastructure Engineers
Cloud Engineers 
System Administrators 
UX/ UI Designers
Game Designers 
Graphic Designers 
System Engineers
QA Engineers
QA testers
Automation Engineers 
System Administrators 
Digital Marketing Specialists 
Finance Directors 
People & Culture Professionals
Customer Success Representatives
Support Services 
This is not an exhaustive list of roles and talent we support, so you trust us with your details, and we can keep you up to date with relevant roles and ideas, especially if you are just curious as to what's out there and want to be kept in the loop so you have the choice as to whether to pursue an opportunity.
Even if you aren't ready to make a move right now but are keen to know what opportunities are out there, get in touch and we can keep you confidentially posted with ideas you might not have known about!
We can't promise to help everyone, but we can promise to be honest and open about whether we can help either right now, or in the future!
---
Upplýsingar fyrir umsækjendur
Here are ways you can connect with us to find out more
Send us a mail - hello@geko.is
Check out our webpage
Connect with our team:
Check out some of the roles we are working on. Please note that not all of the roles we work on are advertised. This is because the companies we work with trusting us to introduce talent to them that we have established could make a great addition to the team!
Often, we don't need to start you in a formal process to meet a company, we arrange an informal coffee meeting for you to connect with the company to gain a better understanding of what they are doing and whether this is something you want to pursue! If you decide it's not for you, then you have made a great new connection for the future!
Come and talk to us and we can tell you more.