Celebrating 1 year of connecting great talent!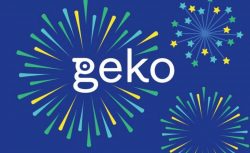 Geko specialises in talent working in STEAM* fields in Iceland
The perfect job is not always out there at the exact moment you are ready to make a move…
That's why we help people understand their own unique blends of talents and interests by identifying core skills to ensure the right people are placed in the right teams at the right time in their career.
By building strong partnerships with companies in Iceland we fully understand their talent needs and match great talent to their teams and projects.
Geko was launched 1 year ago, and we are celebrating 1 year of building an awesome client portfolio here in Iceland. You can see some of the companies we work with here.
We have a core focus on building diverse and inclusive workplaces and also support our partners to create unique and rewarding end-to-end employee experiences to ensure people are empowered and happy in their work.
If you are keen to know about opportunities that are not always advertised, you can send your profile and we will be in touch to discuss. Or you can personally connect any of the team below.
AWS Experts – Cloud Operations – Senior Developers – Back End Developers – Front End Developers – Full Stack Developers – Product Managers – Project Managers – Operations Specialists – DevOps – UX/ UI Designers – System Engineers – Sales & Marketing – QA Engineers – Tech Leads
This is not an exhaustive list of roles we are working on, so you trust us with your details, and we can keep you up to date with relevant roles and ideas, especially if you are just curious as to what's out there!
If you aren't ready to make a move right now but are keen to know what opportunities are out there, get in touch and we can keep you confidentially posted with ideas you might not have known about!
We can't promise to help everyone, but we can promise to be honest and open about whether we can help either right now, or in the future!
Visit our careers page to find out more about the opportunities, as it's all about timing when you are looking for your next career move.
Also if you work in any of the other STEAM fields, we would love to hear from you!
The Geko Team: Connect with us
*Science, Technology, Engineering, Arts, Mathematics
---
Sækja um starf
Upplýsingar fyrir umsækjendur
It's simple. No long forms to fill out, just simply send us your CV here or reach to one of the team.
You can send your details to Geko and we will be in touch to discuss in more detail.
If you are not already connected, you can also connect directly with any of the team:
The Geko Team: Connect with us